WATER COOLERS
One 4-Tap Electric Water Cooler with Purifier and Stabilizer costs $885
NB We are currently not taking any 'Zakat' funds on Water Coolers.
Water for Life Projects Update
Due to the recent floods in Pakistan, all current Water Projects have been put on hold until further notice. If you have donated to a Water Project, then when the situation improves, we will continue with the construction. However, if you wish to donate for a new Water Project, then please continue to do this – thank you.
Water for Life Projects Advert (Urdu)
Provide clean water to the poor
---
Ehsaas is now installing Water Coolers in Mosques, Schools & Hospitals.
With your generous support, we have also provided clean and safe drinking water for thousands of families in Pakistan who cannot afford it due to their financial situation. Hundreds of water-holes and hand pumps have been installed, mainly in the centre of villages, to ensure that more families have access and can benefit from these hand pumps.
Ehsaas has installed 20 Water Coolers, 6,066 Water Pumps and 147 Water Wells to date – Thank You.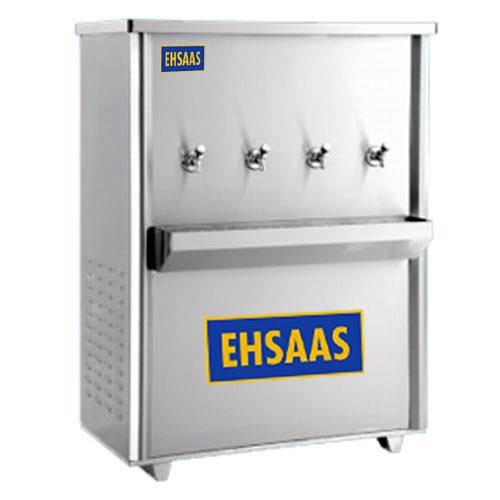 4-Tap Electric Water Cooler
This electric water cooler can be installed in Mosques, Schools & Hospitals etc. and has a stabilizer and filter which purifies the water for drinking purposes.
One 4-Tap Electric Water Cooler with Purifier and Stabilizer costs $885
Safe water supplies, hygienic sanitation and good water management are fundamental to global health. In addition, 5 million people can be protected from being seriously incapacitated from lymphatic filariasis and another 5 million from trachoma.
Water-borne diseases are rampant in many economically depressed rural areas of Pakistan because clean running water is simply not available.
---
Almost a tenth of global disease can be prevented by:
increasing access to safe drinking water
improving sanitation and hygiene and
water management to reduce risks of water-borne infectious diseases
---
Annually, safer water can prevent:
1.4 million child deaths from diarrhoea
860,000 child deaths from malnutrition and
280,000 deaths from drowning.